Timbre for ZMT Tailpiece
ZMT tailpiece users may also benefit from the exceptional sound quality of Warchal Timbre strings.
What makes the ZMT version different? The two lower strings have increased length, and the ball end silking of all strings is minimalistic. This enables exact tuning of the afterlengths, as well as free vibration of the strings behind the bridge.
Please note that processing order containing this item may take up to 10 working days
The Timbre string set is the best that we have made so far, utilising all of our knowledge and experience. It combines gut-like sound and response with the extra projection and stability that synthetic strings can deliver.
String break-in time of only 12 minutes.
Though we have tried our best to give you a short string break-in time, we also need your help to enable the strings to reach their ultimate sound quality. After fitting Timbre strings we suggest that you play for 10 minutes using moderate dynamics. You may need to retune your strings several (six to eight) times during this time.
Check that the bridge angle is correct and adjust it carefully if needed, retuning afterwards.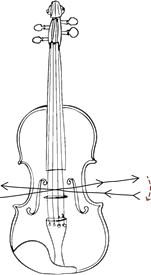 If you find that the sound of the W-Core strings (G, D and A strings) is warm but perhaps a little dull, or lacking in power and brilliance, then this can easily be rectified in a few seconds.
Play four full strokes of the bow on each string close to the bridge using a fortissimo dynamics. Ideally you should use a slightly slanting but not tilted bowing angle as shown in the diagram.
The ideal bow speed when doing this is about 2-3 seconds for each full stroke. Use a bold fortissimo that is louder and perhaps harsher than you might use when performing on stage. It only takes a few seconds. Retune again.
Never rub or heat our strings as part of your string break-in routine. We are aware that you may find information online that suggests you do this, but please don't.
You're now able to enjoy almost all of the sound quality of the Warchal Timbre strings. You will need to retune slightly over the course of the next few hours. Full tone quality is reached within about three hours of playing.
To keep your Timbre strings responding at their best, make sure that you regularly clean rosin build up from your strings. Do not use liquid cleaners of any type to clean Warchal strings. Regular cleaning with a microfibre cloth is all that is needed. If you find that the rosin dust has become fused to the string then use a plastic card such as a credit card to scratch it off gently. You'll find full cleaning recommendations here.
Timbre strings are sold only via our e-shop and luthiers and repairers in person.
Timbre strings sold by luthiers have never been coiled so you can enjoy them at their best quality. There is a high chance you can get these strings for better price from luthiers without the shipping costs. Moreover, you will get a complimentary change of strings with the purchase.
If your luthier or repairer doesn't stock Warchal Timbre strings then please let them know that ordering from us is simple. More information can be found on lep.warchal.com
* Price exc. VAT: Customers outside EU are shopping at prices without VAT.