Amber
The Amber set has been developed with the aim of achieving the sound quality of the best gut strings without any tuning instabilities. The set features W-Core®, a completely new core material developed by our Research & Development team.
Building on the success of the Amber set for violin Warchal has now released the Amber set also for viola.
Violists can now benefit from Warchal's unique invention. Featuring two A string options: metal and synthetic. The metal core A string benefits from our helix design which gives the metal core exceptional elasticity and results in a new level of sound quality. The synthetic core A string and the rest of the set uses our new W-Core® material.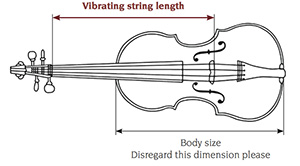 Viola strings are available in two scales.
Medium Vibrating Length 14" – 15" (36 – 38 cm)
Long Vibrating Length 15" – 15.75" (38 – 40 cm)
Please note that we don't state body size but vibrating string length. For instruments with exactly 38 cm vibrating length we advise choosing our medium size viola strings.
To avoid damaging strings it is essential that Warchal viola string sizes are chosen according to the vibrating string length of your instrument and not its body length. The vibrating string length is the distance between the bridge and the nut. We find that the majority of violas have a Medium vibrating string length.
* Price exc. VAT: Customers outside EU are shopping at prices without VAT.